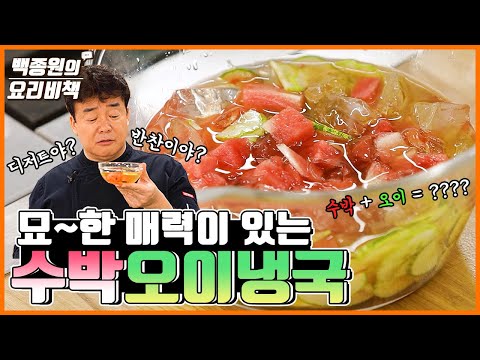 Watermelon + Cucumber = What combination?
 Watermelon oinaengguk (Chilled watermelon cucumber soup)
[Ingredients]
1/8 (400g) watermelon (the pink flesh)
About 1/2 (100g) cucumber
2&1/2 cups (450ml) purified water
4&1/2 tbsp (54g) brown sugar
4&1/2 tbsp (36g) Hwanman vinegar
1&1/2 tbsp (15g) dark soy sauce
Fine salt
Ice [Directions]
1. Cut the watermelon in the shape of a dice with dimensions of 2 cm.
2. Cut the cucumber in half and slice thinly.
3. In a large bowl, add purified water, brown sugar, dark soy sauce, Hwanman vinegar, and fine salt. Mix to make the broth for naengguk.
4. Add the cut watermelon and cucumber to the broth and mix.
5. To finish, add ice and mix. 
Subtitles in foreign languages are provided for everyone who loves Korean food.
All subtitles are provided by an integrated language platform, Flitto.
https://www.flitto.com/business/video-translation  
Content source : Paik's Cuisine 
---
Popular keywords
---
shopee.com.my keywords